Check here in the future for info on the 2020 ROAE ride!
Note that you must have a 2019 Club Membership and 2019 BCORMA Trail Supporter Pass to participate in the ride
We encourage everybody to register online – this will save you time at the ride, as you won't have to fill out a registration form etc.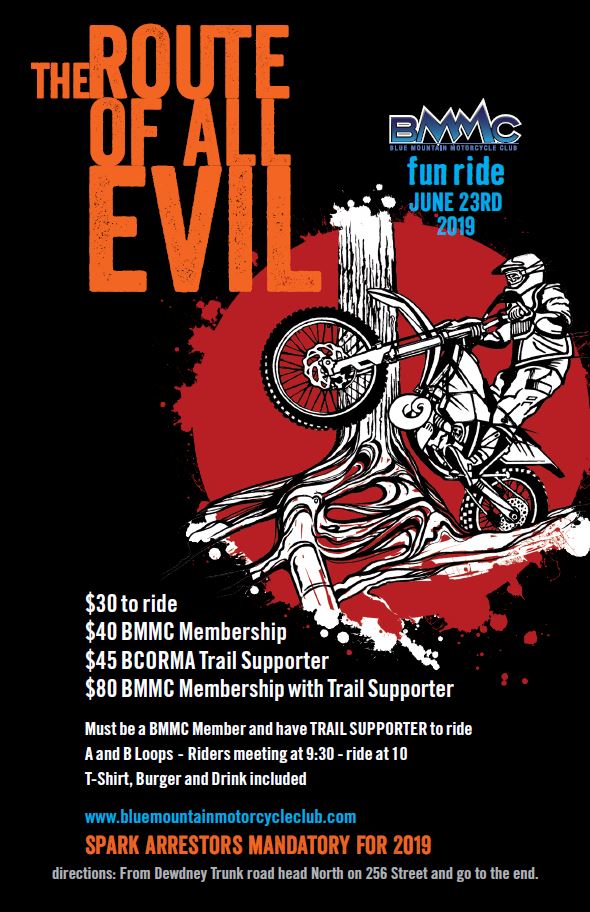 Thank you to the supporters, riders and volunteers for a successful 2019 Fun Ride!
BMMC Presents: The Route of All Evil 2019 FUN RIDE
$30 to ride
Must be a BMMC Member and Have Trail Pass to Ride!
$40 BMMC Membership only (if you already have a trail pass)
$45 BCORMA Trail Supporter only (if you already have a membership)
$80 BMMC Membership with Trail Pass (Save $5 buying both at the same time)
Burger and Drink included.  T-Shirts.
Two Loops – A and B
Riders Meeting 9:30, Ride at 10
Directions:
From Dewdney Trunk Rd Head North on 256th St. and go to the end.